Dear Future The Systematic Trader Book Owner
From: The laptop of Collin Seow
so let me prove it to you
But first, read this disclaimer:
I have the benefit of trading actively for the past 17 years as well as having trained over 5000+ students.
The average person who buys any "how to"  information gets little to no results. I'm using these references for example purposes only.
Your results will vary and depend on many factors …including but not limited to your background, experience, and work ethic.
All purchases entails risk as well as massive and consistent effort and action.
If you're not willing to accept that, please DO NOT GET THIS BOOK.
And yes, it took me time and energy to achieve my results.
With that said … let me jump right in and show you...
And I Did It By Using A Completely Counterintuitive Model That I'm About To Share With You On This Very Page…
The same Systematic Trading formula that traders from all over the world are now using to get 20%,30% or even 50% profits from their trades…
...And in turn create another source of income faster than ever before...
...All while only spending less than 15 minutes a day so they can focus on WHAT THEY WANT...
...And best of all even beginners like you can benefit from it immediately
With That Said, Take A Look At This…
Trades like this happen regularly
When the whole market was down this year...
Some of our winning trades...

Just Like Glen, Who Bought The Systematic Trader 2nd Edition Book and have achieved >100% returns on his portfolio in just 4 months 
This Is Yu Yang, Who Bought The Systematic Trader 2nd Edition Book Not Too Long Ago…
...And soon he saw his portfolio went up by 1.76% ROI in a single day when the whole market was red and everyone else probably lost money...
Here's a post he posted in our private FB Community (which you will have access to once you download the book)...
Here's another The Systematic Trader 2nd Edition Book owner who started using these strategies…
Meet benson, a 25 year old student who had been through quite a roller coaster journey..
This Systematic Trading formula is unlike any method you heard of before…
…This is something completely different, because…
 We don't focus on reading hundreds of papers about the company before we buy
​ We don't focus on listening to the news or friends and family's gossips for "insider tips"

​ We don't focus on buying more of our losers to lower our average buy in price and suffer bigger losses

​ We don't focus on using many different indicators 

​ We don't focus on buying the dip or buying stocks for the long term and praying they go up

In fact: we rarely (if ever) do what the masses do in trading
Instead We focus on just 1 simple, tested and proven strategy repeatedly...
By Buying Strong stocks & selling Weak stocks...
This is something completely different and it has the power to change everything for you…
The Systematic Trading formula Freed Me From All That and It Allowed Me To Spend More Time With My Family And Giving Me Freedom To Do What I Want
Here's what my life used to look like (and If you've ever tried trading, then I'm sure you can relate)…

I call this the "Stock Trading Of Doom":
  Step 1 - Listen to stock picks from friends, blogs, youtube videos
  Step 2 - Spend hours doing research on those stocks 
  Step 3 - Spend hours reading and analyzing the stock charts to decide when to buy
  Step 4 - Buy when the stocks go up due to FOMO
  Step 5 - Stock starts dipping, buy even more to average down
  Step 6 - Stocks still don't recover after a few days, sell to cut losses
  Step 7 - Stocks go up few days/weeks after I sold them, starts regretting my actions
The Stock Trading Of Doom not only sucked, but kept me stuck for 3 years - forcing me to lose money trading and try to find ways to get winning trades while working my ass off.
To be honest…
...I almost gave up on this whole idea of generating profitable trades
... But before I gave up..
I wanted to try something.
Something that - if it worked.
It would change everything.
And as you're about to find out, what I tried...
... It worked...
And I spent years turning it into a system...
I Put This Entire System In A book Called The "The Systematic Trader 2nd Edition" And You Can Start Reading It In Just A Few Moments From Now…
Here are some things I got to enjoy thanks to the Systematic Trading Formula...
As We Get To Know Each Other… You'll Quickly Realize That I'm The Luckiest Person On Earth - So Let's Talk About Where I Was When I Was A Working Adult
I have been working as a stock remisier since 2008.
Earning good money while serving my clients and trading on the side to get some pocket money (
$100-200 per day).
And then all of a sudden one day, I got slapped with a $250k debt that I did not incur...
There's a stupid myth out there... that just by working hard you will be able to achieve true freedom and wealth.
… Well sometimes it doesn't..
And if you want financial freedom it is almost never the answer...
I know, because I tried.
I gave it everything I had.
I gave it my BEST shot.
And it didn't work.
Because I played by the rules and I did everything right...
I Had To Get Out Of My $250k Debt As Fast As Possible With Trading
Systematic Trading Is One Of The Most Legitimate And Easy-to-Use If You Want To Attain Almost Passive Income In The Stock Market
 Do you want to spend long hours after your already long day at work to research and analyze the stock market?
As a husband and father of 3, that's definitely not the life I wish to live.
 Do you want to be in a situation where you are constantly anxious and worried 24/7 about losing your precious money?
If you've ever been in this position, you'd know that it's the WORST feeling ever. Not only that, this would also mean that you are more likely to take on high-risk gambles fuelled by our own emotions and worries
 Can you handle surviving on 2-3 hours of sleep because you have to monitor the markets late into 3-4 am and wakeup at 6-7 am the next day?
Having done exactly that for 3 years straight, the damage done to my mental and physical health was simply not worth it, no matter how high the rewards were.
The systematic approach to trading was the perfect thing for me...
And the best part that attracted me to doing it this way?
You Don't Even Have To Spend Time Looking at charts the Whole day or be a very good analyst
Which means you can easily identify the most profitable stocks to buy and sell without even having to spend HOURS reading or researching about news/reports you can hardly understand.


All you have to do is literally follow a ridiculously simple, completely laid out 1-2-3 framework. 
After doing a bit of research - I started realizing that I needed to devise a system that allowed me to spend less time watching markets while generating higher returns.
I had no idea how to create a "system" since I have been actively trading with multiple strategies with lots of emotions involved.
All I knew how to do was analyze stocks and charts.
And even though I had decent knowledge of analyzing stocks and charts...
I still had to spend long hours researching news, reports, asking other friends for validation and worst of all, staying up late to monitor the markets.
Looking back, those 
first 3 years were brutal.
Late nights.
Hard work.
Stress.
I followed advice from many professional traders and managed to achieve some decent results...

But without a system I can repeatedly follow day in day out...
It was not long before I found myself working almost 24/7, trying to keep up with the fast moving pace of the markets.
Moreover, I was constantly fighting against the fear of failure, selling my stocks for losses when they go down, only to see them going up the next few days.
I realized that I did not have a proven and tested strategy, which resulted in constant stress, worries and anxiety, and I could hardly get a good sleep.


That was my life and I was ready to quit.
But thankfully, I didn't...
That was over 10 years ago, And fast forward to today and it almost seems like a bad dream
I proved the idea of "following the traditional life path" to be all wrong…

Instead of the conventional path of repaying my 250k debt through constantly working in my day job and not knowing when I will see the end of the tunnel...
Now I am not only debt-free, but I've also successfully gained the ability to be able to accumulate generational wealth for my family, without sacrificing my freedom, and time spent with my loved ones.
Here're just some of the trades I execute regularly when the entire market was down 
Wanna Know What The Main Difference Is With The Systematic Trading formula And That "Old Way" Of Doing Things?
OTHERS SPEND HOURS RESEARCHING & APPLYING MULTIPLE DIFFERENT STRATEGIES, I SPEND 15 MINUTES APPLYING JUST 1 TESTED & PROVEN STRATEGY.

Rather than doing all those things I mentioned above in order to extract profits from the market, here's what it looks like now..
And The Result Of Using This New Way?
Which Naturally Leads To...
I can now spend just 15 minutes a day to accomplish everything a normal trader takes 4-5 hours to achieve, from picking the most profitable stocks, to knowing the highest potential price to buy and sell any stock for profits.
And the best part is that ever since I have much more time on my hands after using the systematic trading system to trade...
My 3 kids have been taking more initiative to ask me to go on trips and enjoy activities with them.
The really cool thing is that…
If you follow every single step that I teach, you end up with a new source of income on top your 9-5 job.
But it's much more than that..
It's Actually having the ability to build generational wealth for your family and retire earlier than you'd ever imagine...
How many stock investing/trading models have you seen come and go through the years?
  Or buying 'high-growth' tech stocks hoping for 10X returns only to get crushed by the bear market, with most of them down 80% from their highs and not knowing if they will ever recover...

I have been consistently generating profits from the market for over 10 years straight now.
Now, speaking of the formula...
I'm going to share something that's a little bit disturbing with you.
Here it goes:
I am LEAVING MONEY on the table by showing you this.
And the other gurus out there are making loads of money by teaching the opposite of what I teach (except it doesn't suit most people).
The #1 Mistake Everyone Else Makes is trying to buy low and sell high
Here's why:

There are two types of retail traders out there.
There are the "price-obsessed traders" and there are the "systematic traders".
For my first 3 years of trying to clear my $250k debt - I was a glorified price-obsessed trader.
Price-obsessed traders are always out there trying to catch the lowest price to buy and the highest price to sell.
Their strategy is to try to squeeze and maximise the most profits out of every stock.
And by focusing on this strategy - they spend a ton of time on..
Using many complicated technical analysis strategies
Spend long hours analyzing stock charts hoping to spot the best prices
Going on forums or blogs to seek validation from others on their decision to buy or sell
Rely on financial 'gurus' on Youtube on their advice on which price to buy the stocks at
All of this requires time and energy.
The problem isn't the model itself it's that the more you try to accomplish, the more complicated it gets and you realize you do not have the time to do all of those on top of your 9-5.
And this is the same exact thing that happened to me before I figured out the Systematic Trading formula.
less is more. we focus on eliminating 90% of the complicated work to focus on the 10% that truly matters, applying systems that are repeatable and work for us 24/7/365
That's right...
I said it, we spend less time and do less work.

...Because I rather get CONSISTENT 10, 20, 50% returns with just 15 minutes a day executing lesser BUT high quality trades instead of spending long hours aggressively trading in hopes of higher returns but end up overtrading and not having consistent gains. 
Not to mention constantly monitoring the stock market late into 4am every single day.
No thanks. I did that before and it sucks.
So here's the deal...
...I explain everything in the Systematic Trading book, it's a book that shows you everything you need to know.
So here's the 15 minutes a day idea behind the Systematic Trading formula
Right now, as you're reading this very page...
There's a lot of activity happening in the world of investing and trading.
The amount of new retail investors and traders in the stock market has TRIPLED since the pandemic happened in 2020 as more people look for alternative ways to generate more income.
This has created a ton of beginners gambling in the stock market and not knowing why they are losing money.
Now, most of these people looking to make money from the stock market are looking for a new solution...
And as you may have guessed it - we have it.
And what's really cool is that the Systematic Trading formula has streamlined all the different complicated strategies that they would probably take months or even years to figure out into just 3 simple steps...
That you can follow repeatedly each day to execute profitable trades in just 15 minutes.
And that's where the Systematic Trading System comes in...
It does this beautifully in 3 easy steps...
And that's the difference here. 
When you start trading stocks using this model the results are amplified and sustainable
.
Compared to the traditional or usual model that most retail traders are using, they often are unable to achieve consistent results.


I'm not saying that it is bad.
What I'm saying if your goal is to generate a consistent profitable income from the stock market without having to sacrifice your freedom...
The traditional way of spending hours to research stocks and analyze charts might actually be the thing that's holding you back from getting it!
The old way requires you to not only have STRONG knowledge of technical analysis, emotions control, mastery of hundreds of different strategies so you know which one to use in different settings of the market... 
All of which requires long hours of commitment, resilience which simply defeats the purpose of trading in the first place.
Whereas the Systematic Trading formula is a streamlined process of just 3 simple steps, essentially a SYSTEM where you just have to follow the same steps repeatedly each day, spending no more than 30 minutes to execute profitable trades.
And that's why this is different.
And you know what? I'll Stake My Entire Reputation On This One Promise
You can profit from the stock market just from following a simple 3 step system that takes 15 minutes a day
And once you start using this Systematic Trading formula...
Getting consistent profits from the stock market isn't something you ever need to worry about again - or even think about.
It's something that can be easily achieved with the Systematic Trading formula as it is a system that has been tested and proven, and already successfully used by over 5000+  of my students. 
You just need to follow the 3 simple steps. 
Here's what I want you to do now: set your calendar right now - set it to 90 days from today.
Because If you implement everything I'm going to share with you in The Systematic Trader 2nd Edition book...
That's when you'll start seeing your first profits from a simple process that's easier than whatever methods you have tried before.
That's how easy this is. 
I know how ridiculous that sounds…and cliche that sounds…
…But, today I know better.
Listen:
I don't care how many times you've tried to learn how to invest or trade stocks to generate a new source of income or make money…
I promise you this…
Anyone can achieve consistent profits from the market with the right model (more on this below)..
Ultimately I want you to know one thing..
If I Can Do This, So Can You!
Because over 5000+ others are doing it too right now within the Systematic Trading Community...
Here are some recent posts: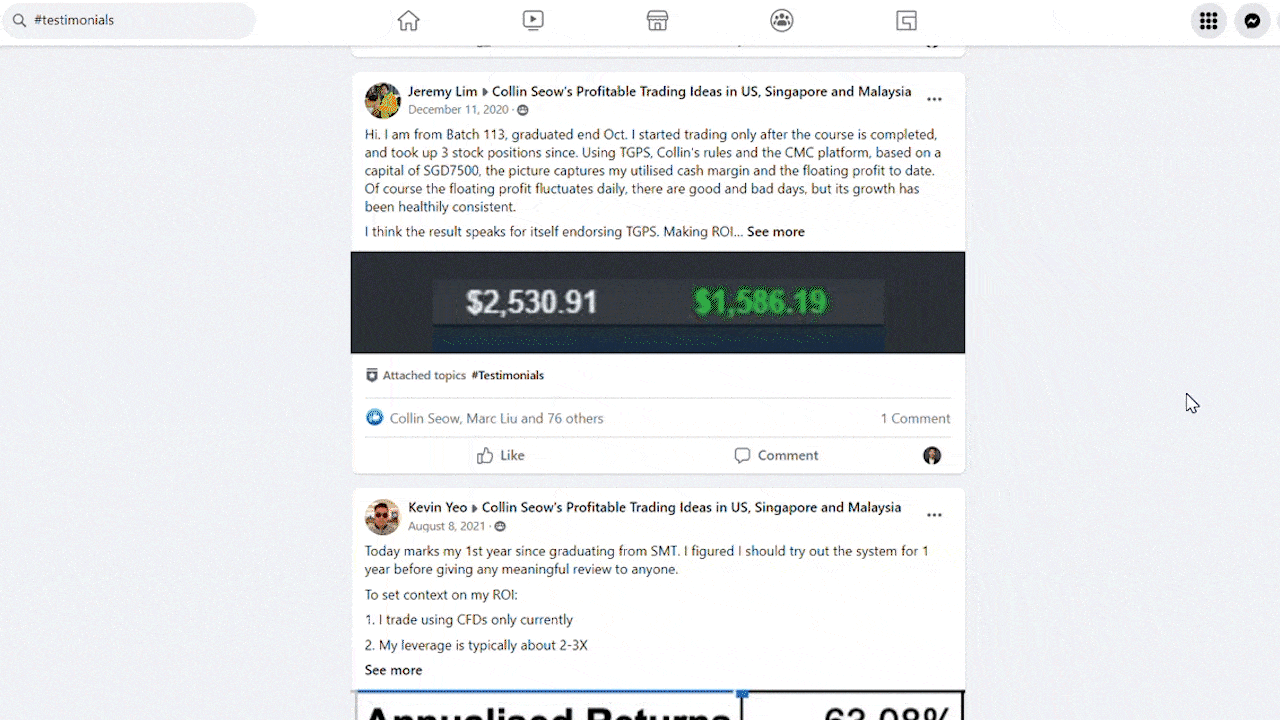 and here's another reason
you too can do this
It took me many years of doing the wrong things, learning complicated strategies that did not produce results, and worst of it all, losing money due to my own emotions and inconsistency to "figure this out"...
... and another 3 years to perfect it and devise the system I have today.
Which is safe to say that there isn't anything left for you to figure out.
I already did all of the hard work for you.
I figured it all out.
Which means...there's nothing for you to "figure out".
You just need to download this book and most important of all - implement it!
That's it…
Here's The exact 3 Step System Revealed in the Systematic Trader 2nd Edition Book For Generating consistent profits from the stock market with just 15 mins a day
  Step 1 - Identify Strong Stocks - Instead of spending hours researching or asking friends to find out what stocks to buy, we'll use a tested and proven system to filter out the highest profit potential stocks backed by real data, in less than 2 minutes.
 Step 3 - Scale Up When Right, Scale Down When Wrong -
We will apply a systematic formula that enables you to double down on trades that you are right and cut loss fast on trades that you are wrong.
This ensures that your overall trades will always be profitable, and that's how you achieve consistent profits each month.

Those are the 3 steps.
All of this is revealed in The Systematic Trader 2nd Edition Book in step-by-step detail.
Making it a counterintuitive approach to generating consistent profits from the market
for the person that seeks to not just build an additional source of income on top of their 9-5, but also learn the intricate skill of building wealth for life...
All without sacrificing your freedom and precious time with your loved ones.
And that's not all, because...
here's what else you're going to discover in the Systematic Trader 2nd Edition Book 
  How To Identify The Most Profitable Stocks Within Minutes (So You Never Have To Waste Your Time Scouring Through News, Reports, Blogs, Or Youtube Videos Only To End Up Regretting Buying Stocks That Lose You Money
  Why 'Buy Low, Sell High' Is The WORST Mistake You Can Ever Make (And What To Do Instead)

  The Little Known Loophole/Trick To 2-3x Your Existing Investment Portfolio (And How You Can Apply It Almost Immediately)
  The Secret Behind Knowing Exactly When To Buy And Sell ANY Stocks (So You Maximize Your Profits While Keeping Your Risk To The Minimum)
  The Step-By-Step Process To Create An Almost-Passive Trading Machine (So You Can Cut Through The Long Hours That A Normal Trader Usually Takes To Execute Profitable Trades In Just 15 Mins A Day)
We'll also show you how to apply all these using an extremely streamlined system such that the process is almost automated and you can spend as little as 15 minutes a day to execute profitable trades.


If financial freedom is what you seek, this is the ultimate guide on how to achieve it.
Plus I'm Going To Give You FREE Monthly lIVE market outlook webinars
LIVE Monthly Market Outlook Webinars
Get EXCLUSIVE and private access to monthly LIVE webinars with me where I will break down the entire market situation into easily-digestible information.
I will also share how I'm positioning myself in the market, what current opportunities are present that we can capitalize on, as well as checking in with our trades and ensuring we are going in the right direction. 
Most importantly, it is a chance for you to ask me ANY questions you have.
And Before You Purchase The Systematic Trader 2nd Edition Book…I Want You To Know That There's No Catch!
The truth is...
I was planning on selling this book for $59, but that meant it will be twice the price of the first edition book.
Which would mean those who are getting The Systematic Trader book for the first time would have to pay much more.
...Which made sense, because we've added 3 new exclusive chapters to this new book that were not on the first edition book.
But then I realised hey - trading has gained a lot more popularity since then, there are more people in need of trading knowledge and skills.
By lowering the price to $32.00 it allows me to impact more people and help them Achieve The Ability To Retire Earlier Through Profitable Trading
I consider that a true win/win...
Also in most cases, I take a loss when selling the book at this price.
It costs me just over $80.00 in advertising expense to sell one book (excluding cost of distributors, manpower etc...)
So why would I do that?
Simple. I'm making this offer with the idea that you'll be very impressed with what I'm giving you today, and you'll want to do more business with me in the future.
I'm betting that you'll enjoy the book so much, you'll call and ask to take additional classes or trainings from me. 
Pretty straightforward.
Anyway - with all of that said, this is a limited offer.
And since you've made it this far, I'll assume that you're ready to order, so with that in mind...
This Book Was Previously SOLD OUT and We've Only Restocked Limited Copies...
(Save $27.00 today)
Get The Physical Book + 5 Bonuses For
$59
Just $32.00! 
Delivered instantly.
Available For Instant Purchase
I'll talk to you in our private FB Group that you'll get instant access to as soon as you purchase a copy of The Systematic Trader 2nd Edition Book.
Until then, to your success,
Collin Seow